My Impossible List
"It's kind of fun to do the impossible."
– Walt Disney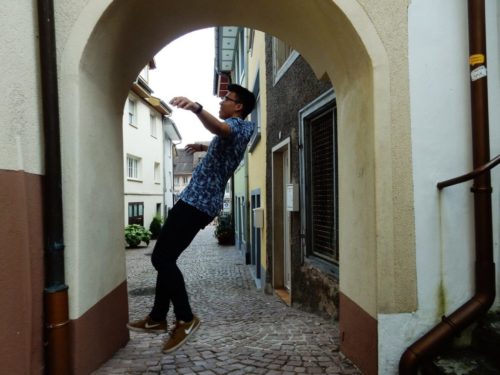 Not your plain ol' bucket list
Have you ever thought to yourself "Huh, that would be an awesome thing to happen in my life some day. I should put that on my bucket list."? What happened to that list? A lot of people just write down a list of things they want do or accomplish. However, often, the very same people won't touch that list ever again and they forget all about it.
Why is that? Well, the reason is not necessarily that they are too lazy. It is just the way the list is set up. The bucket list only contains one-off events that add up to a highlight reel. In contrast, the Impossible list is about the journey. It's an ever-evolving list which grows with you.
Your final goals may seem far away and even impossible, but using the Impossible List you don't have to wait until completion to cross out your goal. You can start small. And with each milestone you cross out, you get closer and closer to your seemingly impossible goal.
What you can do to get started:
So think about all the things you could do, how each area in your life should look like. Don't think about whether it's feasible or not. Just do a brain dump exercise for 20 minutes. You might also imagine your daily life in the future and write down in detail how every hour looks like.
Even if you don't know what you truly want yet. Don't worry. Things will change. But just asking yourselves such questions and formally writing them down can give you some clarity and a good enough starting point.
Once you've written it all down, you can start forming your Impossible List by splitting it into different categories like I did below.
I first discovered the Impossible List by watching Thomas Frank from collegeinfogeek, who then got the idea from Joel Runyon at ImpossibleHQ.
My Impossible List
Current Focuses:
Reading every day
Program every day
(Currently enrolling in the Harvard CS50 course taught by David J. Malan)
Improve videography and photography skills
Practice both Cantonese and Spanish
Building an online presence
Run regularly (Strava Profile)
Last 5 Completed Goals/Achievements
Completed all problem sets of the Harvard CS50 course! Last problem set was building a web application where users can register, buy/sell stocks. (Now only the final personal project is left) (12.09.2021)
Ran my first race ever in Schaffhausen, Switzerland, a speedy uphill and downhill 7.25km race. Considering my hiatus due to injuries I'm happy with the result of 36:13min (5:00min/km).
Launch of my second and biggest YouTube project: "A Day In My Life at TUM". My most well received video yet. Thank you all! (31.08.2021)
Complete 4th semester with a better result than all previous ones (continuous improvement!) (August 2021)
E|2|C program graduation of the Campus Founders where I was trained to become a junior (startup) coach . The program is in collaboration with UnternehmeTUM, Uni Stuttgart and HFT Stuttgart. Best part of it all is I met a lot of amazing like-minded people (30.07.2021)
(Last update: 15.09.2021)
Life Goals
Become first university graduate in the family (TUM B.Sc.)

First semester
Second semester
Third semester
Fourth semester
Fifth semester
Semester abroad at the triple-crowned business school "Hanken School of Economics" in Helsinki, Finland

"Career" timeline, aka living up to the expectations my parents set for me and being able to support them financially one day

TUM Research Assistant at Global Center for Family Enterprise
Team Member / Web Designer at startup Cuppa
Website Manager at Viet Make It.
Project study at 7-digit funded robotics startup from Munich: sewts, supervision by the TUM Entrepreneurship Research Institute
Working student at Accenture
Professional Goals
Personal website:

Start your first website (March 1, 2020)
Launch your complete and fully optimized personal website (The overwhelmingly great support and reception left me simply ecstatic!) (April 4, 2020)
Survive a damn critical website error and rebuild (May 2020)
Surpass 1,000 total views on the website (blackout in May) (10.06.2020)
20 Newsletter subscribers (04.07.2020)
Write more newsletter articles regularly, say 10

YouTube subscribers milestones (more under Videography in "Creative Goals"):

30 (15.08.2020)
100
1,000

Launch your first shop selling design t-shirts etc (March 14, 2020)
Launch a substantial e-commerce?
Make 1,ooo€ on your own
Work like in a startup team (: startup challenge, Team TATVA) (October 2019 – January 2020)
Work at/be part of a startup (4th member of Cuppa) (main task is to completely relaunch the existing website) (September 2020)
Work at/be part of an NGO (Viet Make It.) (Nov 2020 – April 2021)

Supported the team as Website Manager, optimizing digital presence
Community tripled in size during my time, though admittedly a lot of it was due to the great job done by the team 😀

Found a startup company
Give a TED Talk
Fitness/Sports Goals
Playing table tennis competitively:

reach ~1200 TTR (table tennis ranking points)
earn a medal at the district tournament 2017 (:U18, bronze)
become team district champion of season 2018

Run 5K (first recorded one on November 24, 2017):

One of the earliest: ~6min/km (01.04.2018)
Current record: 23:04, ~4:37min/km (18.08.2020)
Current record: 22:10, ~4:26min/km (14.09.2020)

Run a "good" cooper test in 12th grade (~2700m in 12 min) (2019)
Run 10K:

First one with friend: 10.16K, 5:43min/km (26.07.2020)
Current record: 52:39, ~5:16min/km (15.08.2020)
Current record: 48/49min (04.10.2020)
Current record: 47:23, 4:44min/km (26.10.2020)

Run a half marathon (21.1 km):

First one (I did it!): ~ a little under 2h, ~5:38min/km (26.09.2020)
Was in the worst possible weather, see more on Strava (feel free to connect too if you run)
New next record: ?

Races:

First race ever in Schaffhausen, Switzerland: 7.25km in 36:13min, 5:00min/km pace (uphills and downhills) (05.09.2021)
2nd race: ?

Transition from home workouts to the gym

Currently going to the gym with a friend twice a week (Mid-August 2021)

Learn Skateboarding

(pro in commuting in the city to uni with a pennyboard)
Ollie

on grass (28.03.20, Day 2)
on paved ground (01.04.20, Day 5)
on smooth surface
rolling

Learn calisthenics
Learn to dance (urban/hip-hop/breaking)
Habit Goals
Practice Spanish & Japanese for 30 days on Duolingo (60-days streak as of now, May 02, 2020)

now I practice by writing with people on Tandem

Practicing Cantonese with the "Ling" app
Reading:

Read every day for 30 days (starting fresh on April 10, 2020) (in continuation for eternity…)
Check out my Goodreads to see what I'm currently reading and what I have on my list for past and future reads or for comments/quotes on my other page

Run regularly and often (Strava documentation)

Started from mid-June 2020
Current Mileage: 340km (26.10.2020)
Currently injured/have problems with my ankle, have increased stress there due to flat feet and the like. Can't run for long without pain…first signs in December 2020…hanging in there
Back on track now: Total mileage so far is 833km. I had ups and downs, so for some months running was pretty much on hold. But since August I could run practically pain-free, running 100km in that month. (15.09.2021) 
Creative/Skill Goals
Drawing:

Have a thick stack of drawings since childhood
Improve my drawing such that I can also comfortably sketch human anatomy without reference
Print out your first digital illustration

Photography:

Learn photography basics
Learn photo editing on Adobe Photoshop
Do professional photoshooting
Videography:

Learn to handle HitFilm Express, Adobe Premiere Pro
Produce a video on commission (:for TUM) (January 2020)
Publish your first YouTube video (02.08.2020 (teaser on 14.07.2020))
Make your second serious video project  (31.08.2021)
Upload more frequently, at least weekly…

Graphic + UI/UX Design:

Create two new designs for every-day products
First prototype/wireframe of app (January 2020)
Larger UI/UX project

Languages:

German (Native)
Cantonese (HK) (~Native, technically~)

But still practice more (using Ling app)

English (fluent, best performance in high school)
Learn Spanish

for 5 years until high school graduation (~B2-level (upper intermediate))
got rusty, get back to it and improve
(…actually I have befriended quite a lot of cool Spanish-speakers :D)
only thing is I need to improve listening comprehension…

Learn Japanese (Beginner)

Coding/Programming:

Complete TUM's edx course on object-oriented programming (Java)
Learn HTML/CSS fundamentals
(Re)Learn Java or JavaScript? Or Python?

tried a bit of everything, now Python for the time-being

Python (full Python course (4 hours worth of content))
Language R (Data Science) (part of study curriculum 2nd semester)
Language C (CS50 Harvard course by David J. Malan)
Java (OOP) (3rd semester)
Completed a programming group project with my team, we built a functional skydiving reservation system (logging in/registering, selecting group size, accessories, dates, companies, reserving/canceling etc…) (we received 1.0/A+) (January 2021)
Got a 1.0/A+ in Introduction to Computer Science (for non Informatics studies), top 8% among 350+ students (positively shocked) (February 2021)
Refresh and set on one language for mastery…
Completing the Harvard CS50 course

Finished Week 8 out of 12 (as of writing: 13.04.2021) (super challenging yet fun, extremely valuable course)
Finished Week 11 out of 12, last problem set was about building a web application where users can register and buy and sell stocks (12.09.2021)
Complete Final Project (could be about anything, but in scope it is much more ambitious than other problem sets)

Launch a mobile app or web application for the public
Fun and/or "Insane" Goals
Go skydiving
Go camping and watch the starry night sky
Events to Attend
Travel Goals
(Countries I've already been to: Germany (duh), Switzerland, Austria, France, Italy)
Visit Hong Kong (where my parents come from) (August, 2017)
Visit Macau (August 2017)
Visit Taiwan (August 2017)
Visit Spain (:San Sebastián) (May 2018)
Visit Finland (2022)
Go on a Europe Interrail Trip (& vlog)
Visit Japan
…any specific recommendations from your side?
Other
E|2|C program graduation of the Campus Founders where I was trained to become a junior (startup) coach . The program is in collaboration with UnternehmeTUM, Uni Stuttgart and HFT Stuttgart. Best part of it all is I met a lot of amazing like-minded people (30.07.2021)
Completed the Starting Up online course (entrepreneurship/startup journey from beginning to end) (28.03.2021)
Selected for the E|2|C program of the Campus Founders where I am trained to become a junior (startup) coach (18.03.2021)
Sparked an interesting conversation with the Finns on Reddit, which then got trending. It was a serious topic about human rights. (03.2021)
Get a 1.0 (A+) in Intro to Computer Science -> Top 8% among 350+ students (I was positively shocked) (03.2021)
Nominated for abroad studies at the triple-crown business school Hanken School of Economics in Helsinki, Finland (02.2021) 
Completed Ethics of AI course by University of Helsinki (01.2021)
Completed Fundamentals Of Digital Marketing course by Goolge (09.2020)